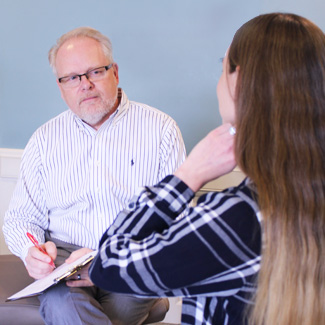 Meet Dr. Kevin Sharp
Learning to Help Others, Naturally
Though there had been two previous generations of chiropractors in the family, Dr. Sharp had not seriously considered entering the profession until his chiropractor sat down to talk to him about it. The interest he felt in the natural healing field grew as he went through his undergraduate education, and he decided to attend the Los Angeles College of Chiropractic.
There, Dr. Sharp was recognized with the Clinical Excellence Award and the President's Award, as well as being student body president. He was mentored by the college president Dr. Drake and became heavily involved in the Gonstead Club. To get the most out of his chiropractic education, Dr. Sharp threw himself into every learning opportunity that presented itself.
CHIROPRACTIC CARE »

I love being a chiropractor. After decades in practice, I still enjoy waking up and going to the office every day. Chiropractic is an incredible way to give back to the people in the community. Some individuals come in unable to walk, plagued by pain, chronic conditions or headaches. With time and persistence, they can get back to living a good life.
Staying Busy With Chiropractic and Family
Over the years, Dr. Sharp has been recognized with numerous awards. He is a Fellow of the International College of Chiropractors, one of the most prestigious honors given to Doctors of Chiropractic.
Dr. Sharp and his beloved wife, Kim, have a life that revolves around Sharp Chiropractic. She is our marketing director and loves getting to know patients, creating a warm and welcoming environment. Together, they have seven children that are spread out from Los Angeles to Denver, Houston to Michigan. Much of their time is spent traveling to see their family. Dr. Sharp plays golf and is President of The North Carolina Board of Chiropractic Examiners, as well as being a teacher and staying involved in his local church.
Are you ready to get started? Contact our Winston-Salem office today to schedule your appointment or discuss what we can do for you. We offer same-day visits for your convenience.

Chiropractor Winston-Salem | (336) 768-7227