Regain Your Health at Sharp Chiropractic
At Sharp Chiropractic, Winston-Salem Chiropractor Dr. Kevin Sharp and his friendly, warm and professional team are committed to providing the highest quality of natural health care available. We are passionate about ensuring that you know you are cared for and receive recommendations that are customized to you and your needs.
Whether you are currently suffering from back or neck pain, headaches, an injury, chronic health condition or other forms of stress and tension, we can help you. In fact, many people seek our assistance simply to improve their overall health.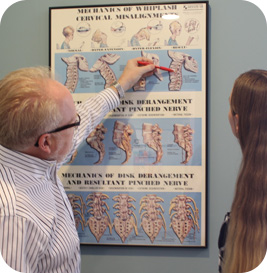 Determining What Is Best for You
Dr. Sharp is well-known in this community with a positive reputation among the medical professionals in the area. We frequently get referrals from OB-GYNs, internists, neurologists, surgeons and more who know that we have helped numerous individuals. If we do not feel that we are the appropriate place for you, we will refer you to another practitioner in our network.
Our mission is to serve our patients with efficient, excellent care that is affordable for all. Read about our many successes in our patient testimonials. If you are ready to book your appointment with Chiropractor Winston-Salem Dr. Sharp, contact us today. Please note that we accept insurance and will be happy to file your claims for you.